Quick Tip
We highly recommend maintaining multiple versions of your stories. You invested the time to preserve these priceless recollections so make sure you have them stored i more than one location. Click the image icons above the story to print or download a PDF version.
Enrich the world by sharing your stories. This is how we can better understand how the other half lives. Share your story via email, Facebook, Twitter, Linkedin or your favorite website by clicking on the share icons on top of the page.
You can edit, delete, or un-publish stories you created by putting your mouse over the pencil icon to the right of each story title and choosing the action you wish to make.
If you are unable to see your story you may have pasted text from a Word document. Click the pencil icon to go back to the editor page and read the HELP banner to learn what to do.
Bring Your Sons!!
When it comes to famous family sayings there is one that really stands out when I was a kid. With 7 boys and 3 girls Dad has his hands full whenever he dared to take us anywhere outside the home. The 3 older boys, Jimmy, myself and Johnny, were old enough at around 9-13 years to be a great risk to my Dad. He prepped us in full threat when he thought it might be a good thing to expose his sons to some of the people he spent his life trying to establish his reputation with.
As if a self-fulfilling prophecy we would inevitably cause a stir and on the way home he'd break into a tirade about how we "did it again". Dad has one of the most sarcastic senses of humor of anyone I know. He taught it to us and we find sarcasm to be enormously funny today. Sarcasm is what he used when he tried to make a point but he didn't mean for it to be funny. His famous family saying was "Bring your sons!". Yep. So many times he was invited to an occasion and he would dread those words, Hey George, why don't you......bring your sons!!"
So, today we laugh every time the phrase is mentioned and we use it a lot. It is said with a sort of side mouth attitude as if the last thing he would ever want to do was to "bring his sons". So, I can hear him now yelling at us like, "You boys will never go out again. Instead of being proud to show of my family I end up with the same result. "
Bring your sons!!!
Here's Dad with (l to r) Susan, Joan, Johnny, Tommy and Jimmy! Bring your sons!! They just look like mischief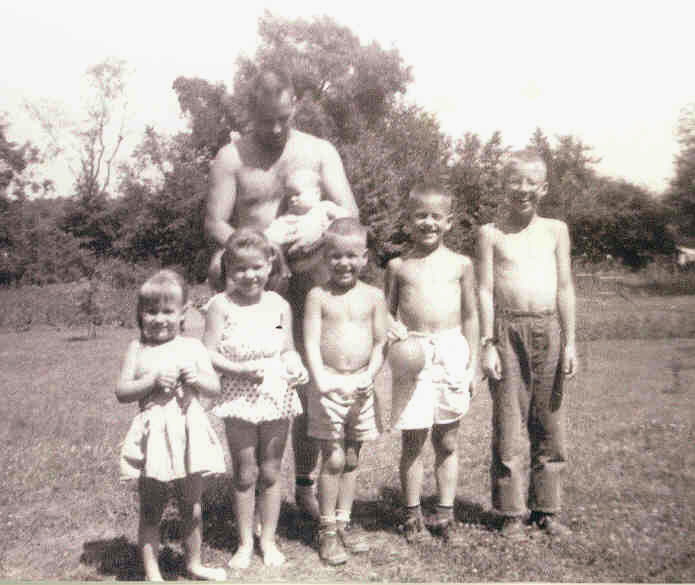 Welcome to my profile. Buried within my stories, audio recordings and photos published on this site are the highlights of a life well lived. Only after looking back at the contributions to my collection do I realize just how amazing my life has been.
Featured Stories
Story Blog
Dad's Type of Entertainment Marjorie Turner Hollman
Slide Show
My ChildhoodLaura Lee Hickfang
Pict-Oral Audio
Clay with FamilyGail Sheehy